ST. AUGUSTINE UNIVERSITY
OF TANZANIA
P.O. Box 307
Mwanza, Tanzania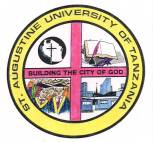 Research, Consultancy, Special Programmes
and Publications Unit
Tel: 255-028-2550560/2550166/2552725
Fax: 255-028-2550167
e-mail: saut@africanonline.co.tz
---
Introduction
Companies, factories, NGOs, government institutions and the private sector have been facing a crisis in managing their activities. As a result, production has suffered, causing poor service to their customers, poor handling of equipment and properties, lack of morale in production, and at times a laissez-faire attitude towards work.  This has led some businesses to close their firms or operate at a loss.
St. Augustine University of Tanzania (SAUT) through its programme of short courses comes to your rescue by offering courses for your workers and staff that will enable you to make changes for your business or related activity. All our training programmes aim at developing job-related skills to ensure that participants utilise their own experiences and relate the newly acquired skills to their own situation.  SAUT is experienced in conducting short courses that are client oriented.  We serve our clients according to their needs and desires.  And we have been doing that for the past forty years.
Objectives
Our courses aim at imparting new skills and techniques to our clients to assure their best performance. We also provide opportunities for our clients, however well trained they are, to keep abreast of current knowledge and skills relevant to their job.
Type of Short Courses Offered
Courses that can be offered at SAUT are divided into four categories: Business, Administration, Media Management, and Practical areas.
Courses in Business
These include the following:
1. Financial Accounting
2. Auditing
3. Financial Planning and Control
4. Capital Management
5. Budgeting and Project Appraisal
6. Costing and Management Accounting
7. Purchasing Skills (Local and External)
8. Inventory Management and Control
9. Warehouse Management
10. Marketing Management
11. International Marketing
12. Business Law
13. Negotiation Skills
Courses in Administration
They include the following:
1. General Administration Techniques
2. Management Policy and Decision Making
3. Management Training and Development
4. Organisational Behavior
5. Staff Management
6. Health Management
7. Education Management and Administration
8. Local Government Management
9. NGO Management
Courses in Media Management
1. Law of the Press
2. Photo – Journalism
3. Broadcasting
4. News Collection
5. News Production
6. Newspaper Production
7. Public Relations Skills
8. Advertising Skills
Practical Courses
1. Computer Skills and Management
2. Communication Skills
3. English Writing
4. Report Writing
5. Gender Issues
6. Environmental Management Skills
7. Information Technology, TV and Radio Production
Target Groups
Our courses will benefit government and non-governmental workers, persons in business, skilled and unskilled workers, NGO's and religious groups, as well as individuals curious to pursue new fields.
Methods of Instruction
Instruction is through class presentations, seminars, work groups and study tours.
Training Facilities and Resources
SAUT facilities include thirteen standard, comfortable  seminar rooms.  Two dining halls with the capacity to accommodate 150 each with modern facilities.  Comfortable residential accommodations with 350 bedrooms, which can be used as either single or double rooms. Two well-equipped libraries, and two meeting halls with a capacity of 400 participants at a time.
Trainers
SAUT's highly qualified and experienced trainers hold Masters and Ph.D degrees in their specialities. They are active, balanced and highly motivated in running courses.
Recreation
SAUT has a number of sports facilities, including football, volleyball, basketball and some indoor games. There are two well-stocked canteens.
Please Note: We offer Consultancy in various areas. Please contact the Coordinator of this Unit.
When not in use for SAUT programmes, the lodging and training facilities are available on a rental basis to organisations wishing to conduct seminars, workshops or short courses.
Better services are offered if we are informed within two to three months before the course starts.
Not all courses we are capable of running appear in this brochure. If you have a special course that you would like us to prepare for you, please let us know.
We do not conduct courses for individuals except in special cases.
Communication
There are minibuses that operate between St. Augustine University and Mwanza.  We have post office services, telephone, E-mail and Internet.  Also we have a university bus that can be used during courses.
Location
The University is located near Mwanza City at the former Nyegezi Social Training Institute ten kilometers south of the city centre and 20 kilometres from the Airport.
Duration and Timing
We normally conduct short courses during June, July, August and September. However, for a small group, arrangements can be made for a course any time of the year.  How long the course will take depends on the nature of the course. This should be discussed between the client and the head of the department.
For Further Information
Contact the Coordinator of the Research, Publications and Short Courses Unit at the addresses shown in this brochure.
Charges
Our charges are negotiable.  We charge according to the nature of a course and the duration.  Contact us to discuss your needs.